Community Events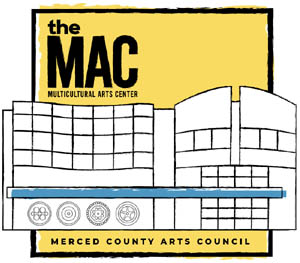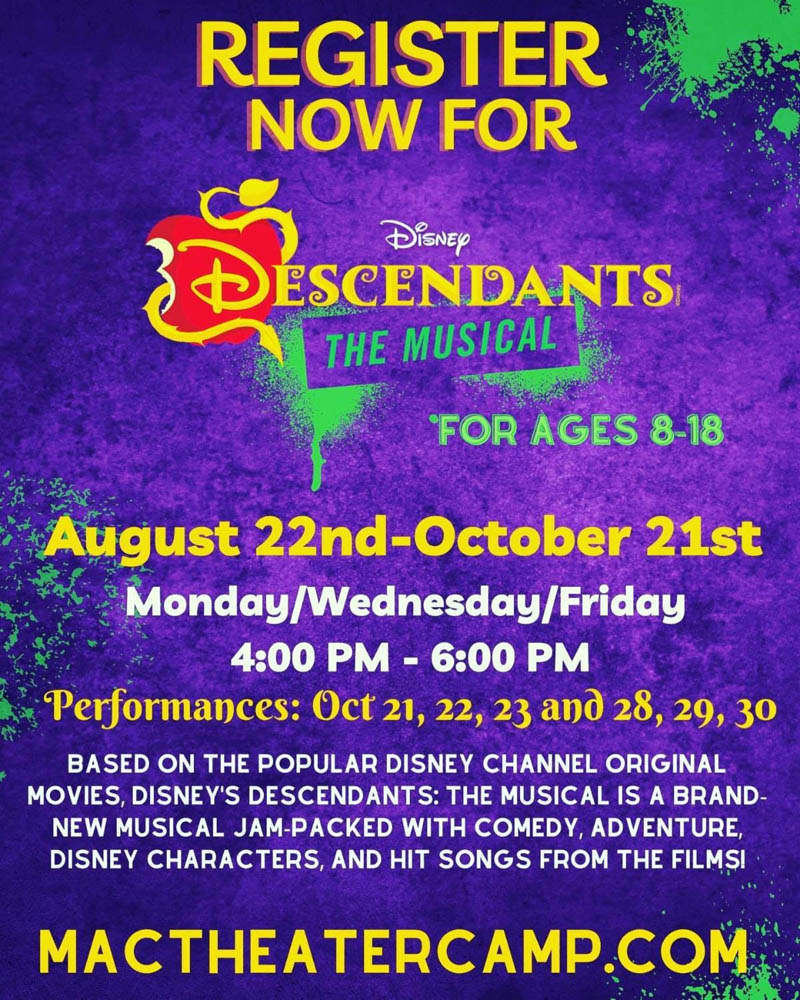 Descendants: Youth Theater Camp
Register now for the next MAC Theater Camp produced by Madison Mitchell in collaboration with MAC's ARTREE.
Descendants: The Musical
FOR AGES 8-18
August 22nd - October 21st
Monday/ Wednesday/ Friday
4:00 PM - 6:00 PM
PERFORMANCES
OCTOBER 21st, 22nd, 23rd & 28, 29, 30
Based on the popular Disney Channel Original Movies, Disney's Descendants: The Musical is a brand-new musical jam-packed with comedy, adventure, Disney characters, and hit songs from the films!
An after school program you will NOT want to miss! 9 weeks of class filled with lessons on Modern Dance, Vocal Technique, Acting, all in combination with rehearsals for "Disney's Descendants". We strive to give your child the experience of a full blown production. Professional choreography, technical design, costumes, and more. We go out of our way to immerse your child into the world of theatre.
This year, we have stepped it up a notch. "Descendants" will be a combination show. The "Adult Roles" will be played by veterans of the Merced Theatre community. This as an opportunity for your student to work with and learn from professionals.
For more information or to register visit mactheatercamp.com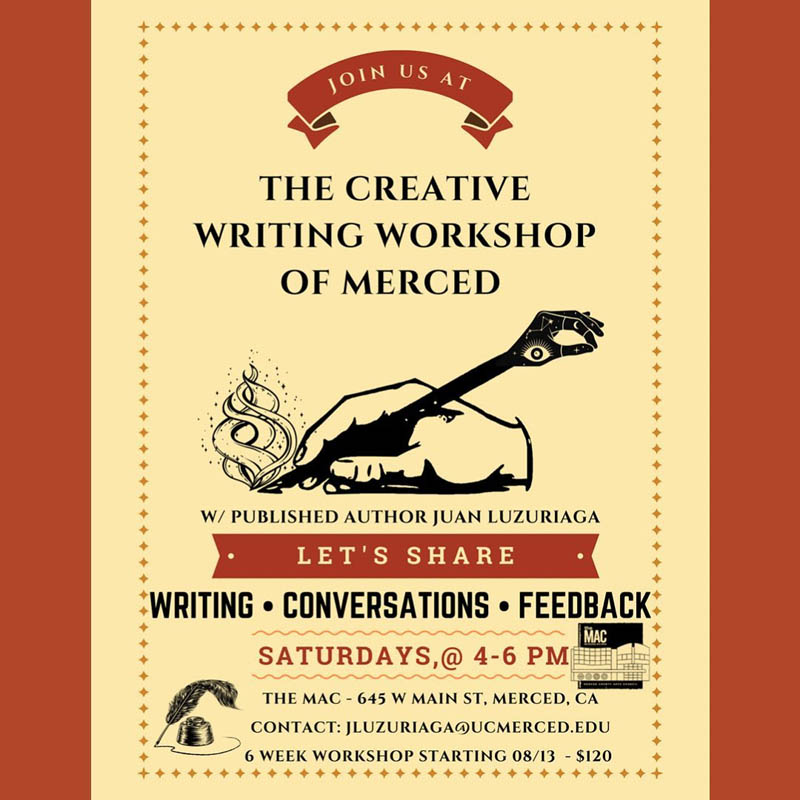 Creative Writing Workshop
Creative Writing Workshop of Merced with
published author Juan Luzuriaga
Let's share writing, conversations, and feedback.
Saturdays from 4-6 pm
At the MAC - 645 W. Main Street, Merced, CA
Contact: jluzuriaga5@gmail.com
6-week workshop starting Saturday, August 13
Cost: $120
-------------------------------------------------------------------------------------------------------------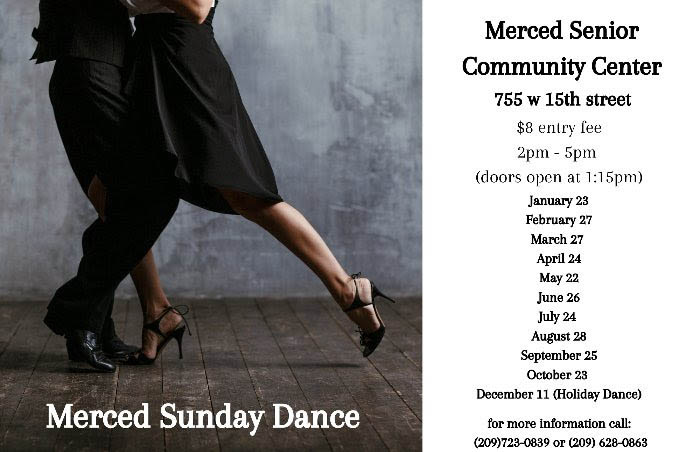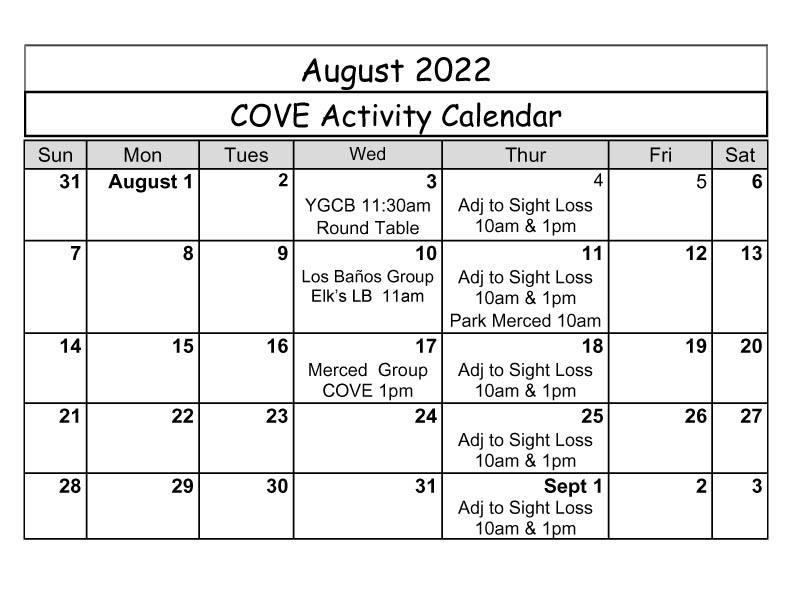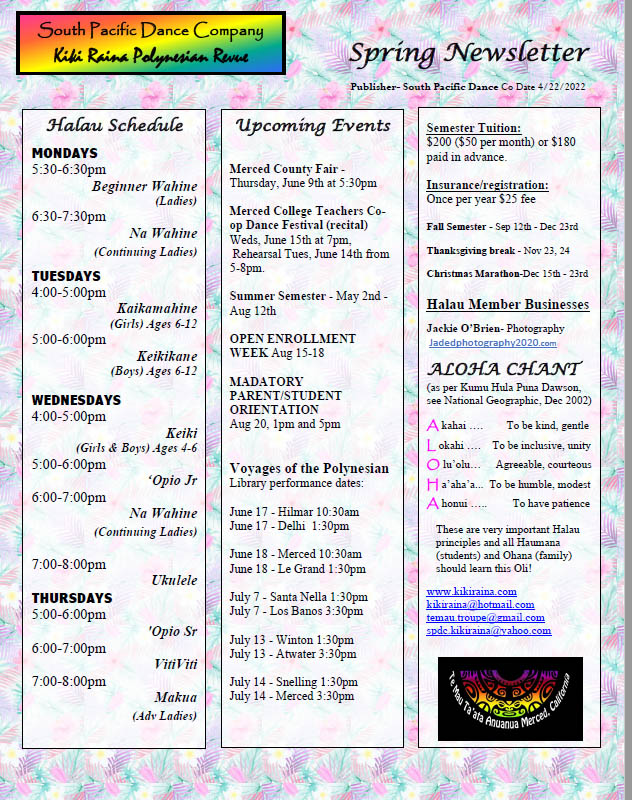 __________________________return to top_____________________________

AUGUST 2022
August 10th - September 11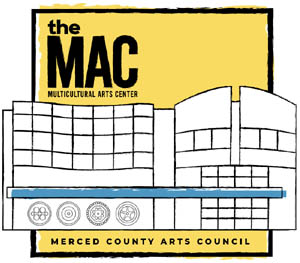 "Community Spirit" 2022
On View: August 10th – September 11th
Online Entries: https://client.smarterentry.com/artsmerced
Art Prospectus: www.artsmerced.org/artist-opportunities
Last Day to enter: July 30th, 2022
Deliver Entries: August 3 – 5, 2022
Pick-up: September 14th - 18th, 2022
RULES:
Must be created by your hands
No Size limitation
Entries for sale or not for sale
Media: works in all media may be entered. Artists with works requiring assembly may be asked to assist in installation if accepted.
ADULT SHOW - Main Gallery
2 Categories: Advanced & Newbies
YOUTH SHOW - Upstairs:
3 Categories: 0-K, 1st-3rd, 4th-8th
__________________________return to top_____________________________
August 20th
__________________________return to top_____________________________
August 26th

Be sure to come on time - movies at the Merced Theatre don't have previews, so the movie will start promptly at the time stated. Come when doors open to give yourself time to visit our concessions stand before the movie!
NAPOLEON DYNAMITE
AUGUST 26, 2022
Doors: 6:30 PM | Movie: 7:00 PM
Admission is $5 at the door, kids 3 & under are free!
__________________________return to top_____________________________
August 26th
Join us on Friday August 26th for a Mayor's Ball Gala-celebrating our Mayor Matt Serrato and his community contributions to our City,
The gala will be a charitable event hosted by the Merced County Hispanic Chamber of Commerce, along with a diverse group of local business owners. The event will be a black tie attire and formal wear occasion. It will be an evening filled with live music, a lavish meal and dancing.
The Mayor's Ball is a benefit fundraiser to help raise proceeds for the D Street Shelter, American Legion Post 83, and other local non-profits.
Doors open at 6:00pm, with cocktails at a no-host bar. Dinner at 7:30pm
To purchase your tickets now before they sell out, or to get Sponsorship levels and learn how you can become a Mayor's Ball Sponsor, visit the event web page at
https://www.accelevents.com/e/mayors-ball
To get additional information you can also call us at 209-384-9537 , by emailing us at info@mercedhcc.com
*Bronze Sponsorship has been acquired*

__________________________return to top_____________________________
SEPTEMBER 2022
September 1st
The Mercado Night Market presents the
"Diversity and Community Alliance Night"
The evening will be a celebration of the diversity and community unity of Merced County. Inviting you, your friends, and family to join us Downtown Merced enjoy a family friendly event.
The night will open at Bob Hart Square with a sparring match by Merced's very own Jesus "Chiquito" Haro WBC Youth Minimum Weight World Champion. Presented by Advanced Airlines: https://www.advancedairlines.com/ and Amtrack San Joaquin: https://amtraksanjoaquins.com/. Followed by various dance groups and performances.
The family friendly fun continues with self direct play by Play Adventures:https://www.playadventures.org/ open to all ages. Going on throughout the event on the Bob Hart Square grass area.
Live music and ongoing exhibitions throughout the event at the Radio Merced Mid Stages located on Main St at Arbor Walkway North, Arbor Walkway South, Vinhos Wine Lounge, and Partisans.
At the Regal Hollywood Merced Main Stage a classic car exhibition by Merced Cruise Night.
80+ Local Vendors Food Vendors Artist Performers
You won't want to miss out on the FUN!
To contact the Mercado Team email us at themercado209@gmail.com or call us
at 209-384-9537
__________________________return to top____________________________

September 9th
__________________________return to top____________________________
September 10th

Saturday, September 10, 2022
It's a trip back to the exciting atmosphere of Rat Pack era Las Vegas with music, comedy, and the camaraderie of three legendary friends that made history on the stage of a Las Vegas showroom, and inspired this popular Rat Pack Tribute show performed by America's three most sought-after Rat Pack Impersonators. 7:00 PM
__________________________return to top____________________________

September 23rd

Friday, September 23, 2022
8 PM | Doors: 7 PM
A product of the streets of East Los Angeles, FELIPE ESPARZA is a comedian and actor, best known for his raw, real-life comedy that audiences everywhere can relate to. Recognized for his wild hair and his often-imitated phrase, "what's up, fool?", people are surprised to find out that Felipe is also the same person referred to and imitated in infamous stories by fellow comedian, Gabriel Iglesias. In addition to performing his live stand-up in venues worldwide, Felipe hosts a weekly podcast on the All Things Comedy Network called "What's Up Fool?" that focuses on interesting stories from just about anybody. Felipe believes everyone has a story to tell about how they got where they are, no matter who they are. Recently, Felipe produced his second hour-long stand-up special with his wife Lesa, entitled "Translate This", which premiered on HBO in the Fall of 2017.
__________________________return to top____________________________
OCTOBER 2022
October 14th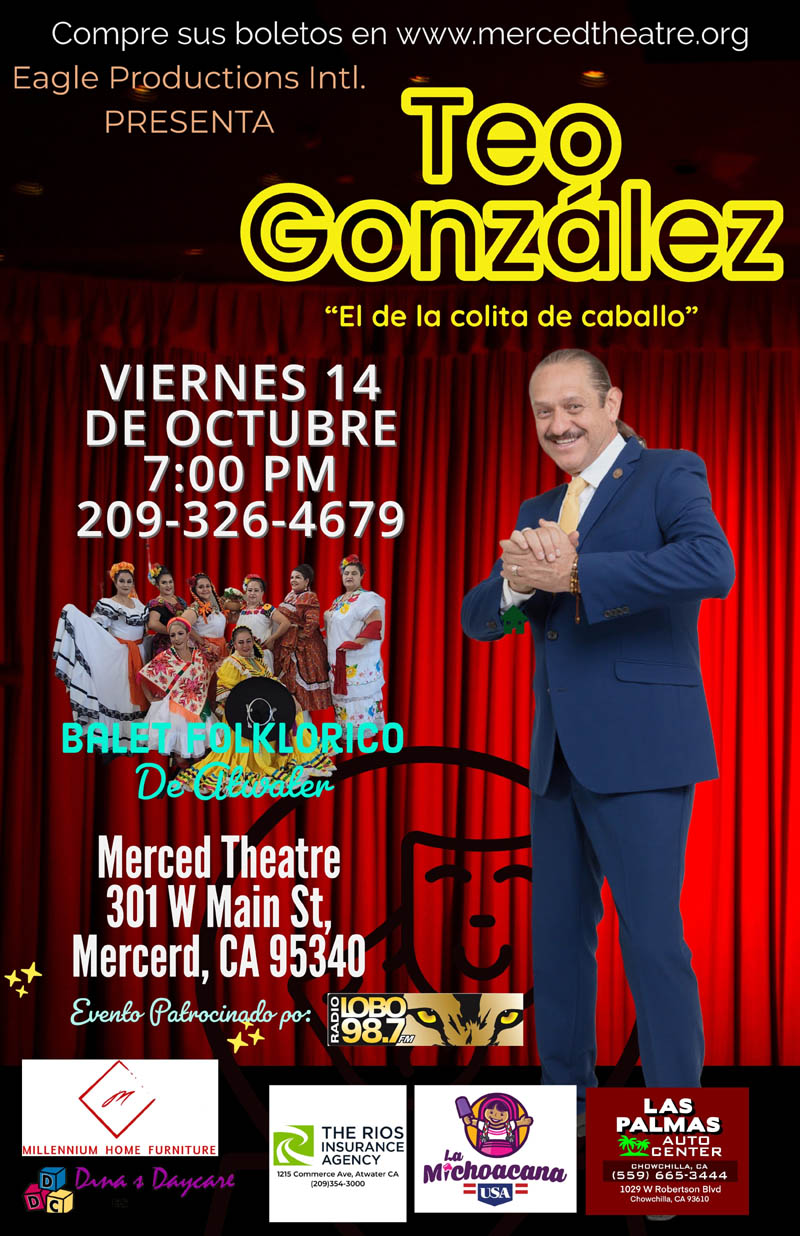 Teo González nació el 28 de Octubre de 1960 en la ciudad de León, Guanajuato, México. Es un popular comediante mexicano que hace presentaciones personales en teatros, auditorios y palenques, televisión y radio. Para muchos es considerado como el mejor comediante de México.
A la corta edad de 5 meses de nacido, falleció su madre, Antonia, por lo cual su abuela materna se hizo cargo de su crianza. Es católico practicante. Siendo joven fue tercer portero de fútbol soccer en el Club León de la Primera División Mexicana. El hacía reír a sus compañeros durante los entrenamientos y durante las giras del equipo de fútbol. En una reunión que tuvo con sus compañeros en un centro nocturno lo convencieron de subir al escenario para que contara algunos de sus chistes ya populares dentro del club de fútbol. A partir de ese momento mantuvo entretenidos tanto a sus compañeros como a la clientela del lugar. En días posteriores, el propietario del lugar lo contactó para ofrecerle trabajo como comediante. Fue el detonante para que se dedicara de lleno al mundo de la comedia.
__________________________return to top____________________________

October 15th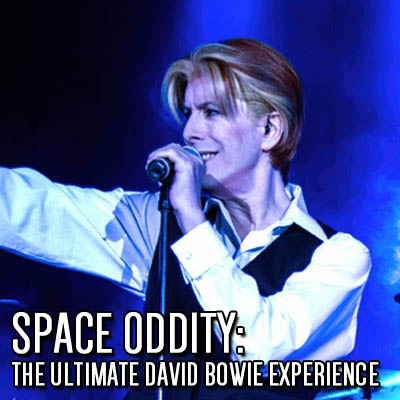 A live, multi-media spectacle that takes you on a musical journey through the constantly metamorphosing career of Rock and Roll's most celebrated innovator. Experience Bowie's miraculous transformation from space-aged rock idol, to polished mainstream media star... and the timeless classics that forever changed the face of pop culture, with David Brighton's salute to the most electrifying performer of our time. 8:00 PM
__________________________return to top____________________________
October 21st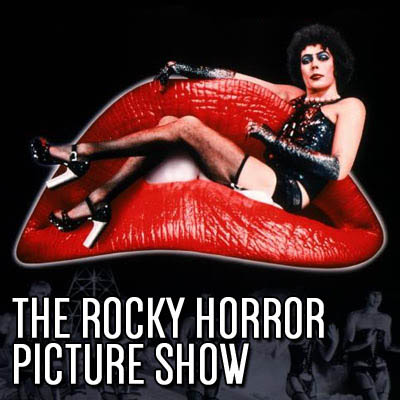 Friday, October 21, 2022
Get the gang together and join us for our 2022 annual screening of The Rocky Horror Picture Show! This screening is fully interactive (prop bags will be for sale the night of the event) and costumes are encouraged! 10 PM

__________________________return to top_____________________________
NOVEMBER 2022
November 4th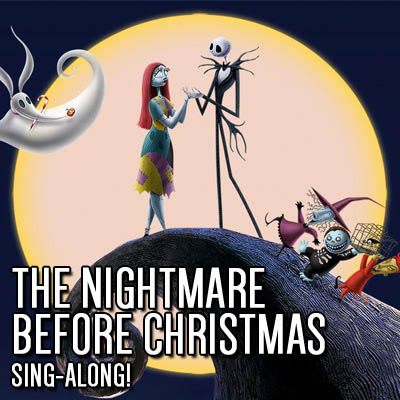 Friday, November 4, 2022
Don't put those Halloween costumes away just yet and dust off those vocal cords for our first annual Nightmare Before Christmas sing along! 7:00 PM
__________________________return to top_____________________________

November 13th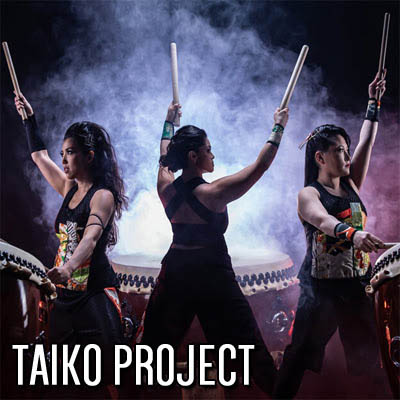 Sunday, November 13, 2022
TAIKOPROJECT has astonished audiences worldwide since 2000 with their unique blend of traditional taiko & innovative aesthetics. Percussive power, dynamic music, and graceful choreography work together to weave a gorgeous narrative you'll have to see (and hear!) to believe! 7:00 PM

__________________________return to top_____________________________
DECEMBER 2022
December 2nd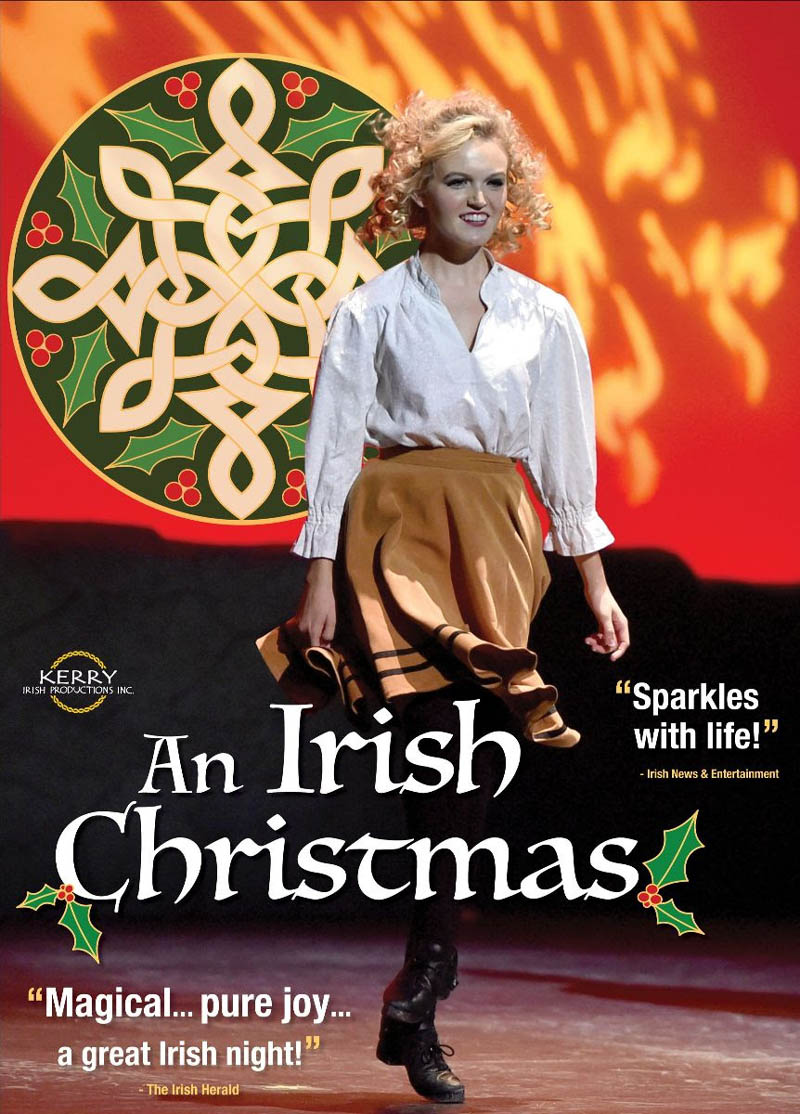 2022 with its acclaimed production of An Irish Christmas at The Merced Theatre on Friday, December 02, 2022 at 7:00 PM.
Tickets are $59, $49, $39, & $29 and go on sale Thursday, July 7, 2022 at 1 PM.
Questions? Call (209) 381-0500 or visit www.mercedtheatre.org for more information or to purchase tickets!
__________________________return to top_____________________________
JANUARY 2023
January 27th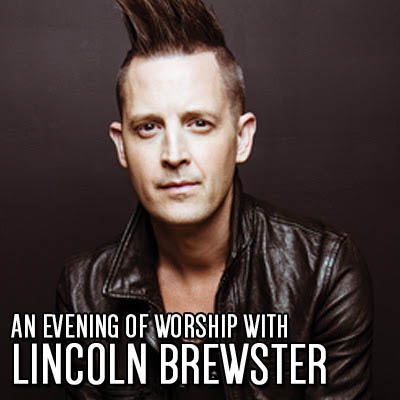 Friday, January 27, 2023
From keeping time with his mother's band as a toddler to leading worship for capacity crowds across America, it's clear that music has been an integral part of Lincoln Brewster's life. Together with Integrity Music, Lincoln Brewster has shared his music through 10 albums across his 20 year career. 7:00 PM

__________________________return to top_____________________________
FEBRUARY 2023
February 10th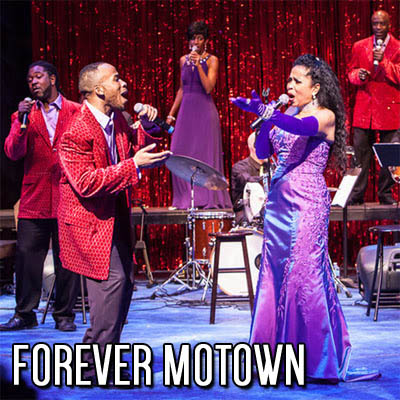 Friday, February 10, 2023
Imagine seeing the greatest Motown groups of all time, all on one stage together again! That's Forever Motown and it's so good for the soul. Hitsville churned out all the #1 hits back in the 60s and 70s…and this show celebrates the best of the best from Berry Gordy's Detroit hit-making factory. 8:00 PM

__________________________return to top_____________________________
February 16th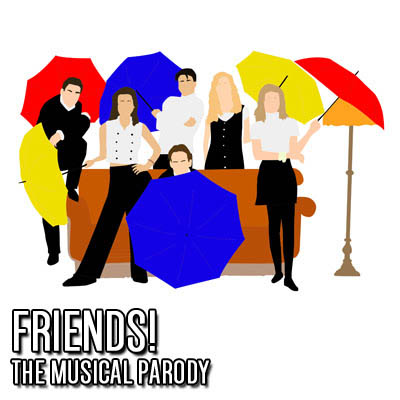 Thursday, February 16, 2023
This hilarious musical celebrates the charming misadventures of everyone's favorite Central Perk regulars. 7:00 PM

__________________________return to top_____________________________
MARCH 2023
March 11th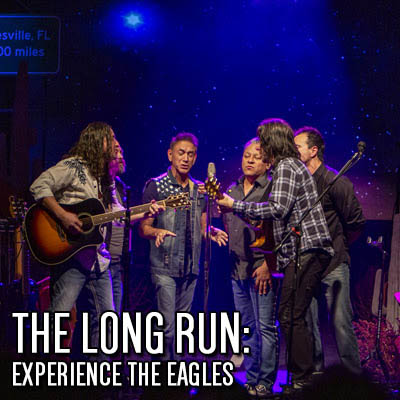 Saturday, March 11, 2023
TLR is a hard-working tribute act from Los Angeles dedicated to faithfully recreating the timeless music of The Eagles. Marked by lush vocal harmonies and exceptional musical accuracy, every performance delivers a reverence for the beloved, Eagles recordings blended with TLR's own live-concert personality. 8:00 PM

__________________________return to top_____________________________
March 21st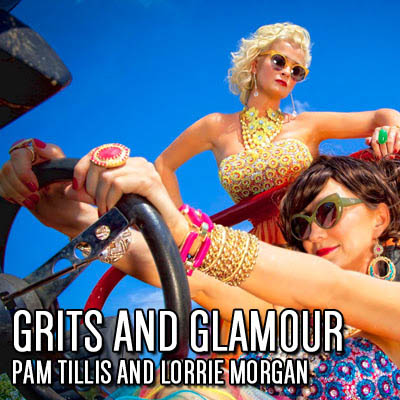 Tuesday, March 21, 2023

Pam Tillis and Lorrie Morgan are currently delighting old and new fans across North America on their highly successful Grits and Glamour Tour. From the road to the red carpet, on center stage in the theater or under the spotlight in a honkytonk, these two women are comfortable in their high heels. Veteran recording artists and performers, they grace the country format with style, flair, and undeniable talent that is captivating and timeless.
Grits and Glamour's Lorrie Morgan and Pam Tillis sparkle and shine with a down home rootsy nature that hopefully inspires others to embrace the Grits and Glamour of their own lives. 7:00 PM
__________________________return to top_____________________________
APRIL 2023
April 8th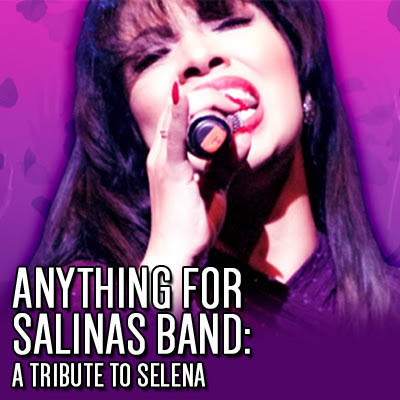 Saturday, April 8, 2023
Anything for Salinas display their love and passion for the Queen of Tex-Mex through their music, creating an experience audiences will never forget. Get ready to sing, dance, and relive Selena! 8:00 PM
__________________________return to top_____________________________
April 15th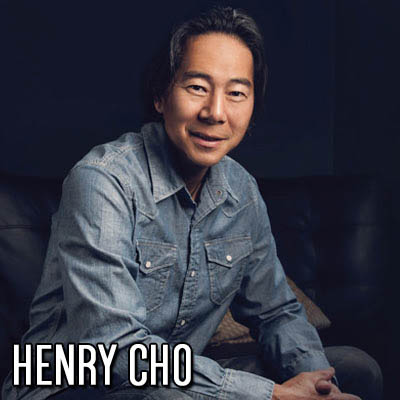 Saturday, April 15, 2023
Award winning comedian, actor, and producer. His work can be heard nationwide several times weekly on SiriusXM Radio's Channel 98, Laugh USA, Sirius Radio's Jeff and Larry's Comedy Roundup Channel 97, and Pandora Radio's PG Comedy Radio Channel. Cho is notable for being one of the only Asian acts to appear regularly on the Grand Ole Opry. 7:00 PM
__________________________return to top_____________________________
April 28th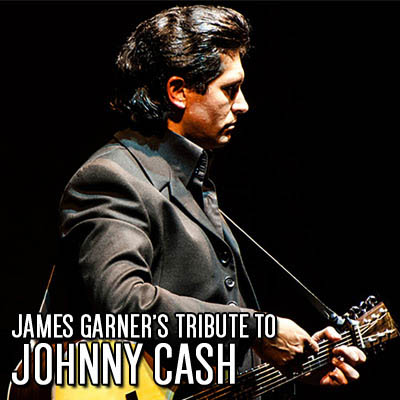 Friday, April 28, 2023
Who best to honor the Man in Black than his biggest fan? Anyone who's seen Garner in concert will tell you this is one fun, toe-tapping musical event that's simply not to be missed! 7:00 PM__________________________return to top_____________________________
MAY 2023
May 20th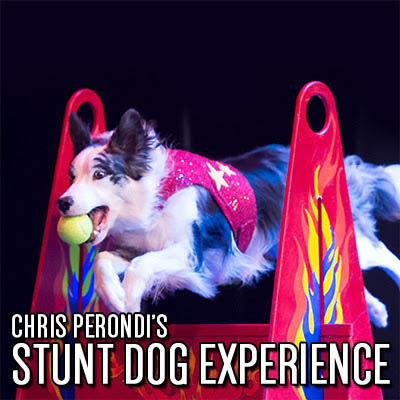 Saturday, May 20, 2023
One of the cutest performances you'll ever see! Enjoy dancing, amazing tricks & stunts, athletic feats, and comedy antics – all by dogs adopted from shelters and pounds across the country.
6:00 PM

__________________________return to top_____________________________